Digital Accessibility: Why It -- and You -- Make a Difference
Mar 30, 2023, 10:00 am - 12:00 pm
SCLRC has sponsored several webinars to help libraries gain a better understanding of the disability landscape, universal design and how to approach accessibility audits. How can we ensure that we apply these concepts to the information we share, the investments we make, and (perhaps most importantly) how can we communicate these efforts with each other and our patrons? With this last webinar, we will take that work one step further to pull the curtain back a bit on digital accessibility and universal design for learning. With this webinar, participants can expect to be able to:
Describe what digital accessibility (DA) is (and why it matters)

Define how DA pertains to library staff as information creators and curators

Describe what a VPAT is and isn't and why it is relevant

Determine relevant existing efforts and how to make them more transparent to patrons

Understand that advocacy is a shared responsibility

Brainstorm ways to work together in the consortium to maximize efforts

Plan potential ongoing training for workshop attendees and relevant staff
If you have specific questions for Rebecca please email them to dcapalongo@scrlc.org
You must ask for accommodations needed in the registration (with a reasonable deadline) and must be willing to provide accessible options like an ASL interpreter if requested. That way, I can ensure the work I am doing is fully compliant with the spirit in which I do it. If there were a participant interested and in need, they should receive the information equally.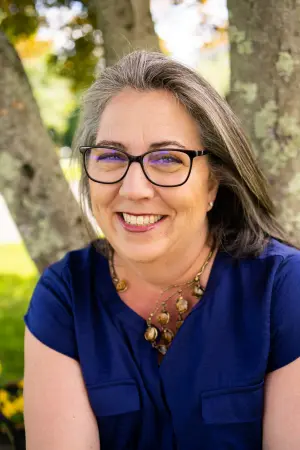 Rebecca Oling is an Associate Professor and Director of Digital Accessibility at Purchase College Library, SUNY. With a background in education (BA, Purdue) and literature (MA, Kansas State), she pursued her MLIS at Kent State University. Rebecca focused most of her career on instruction in libraries, coordinating Purchase College Library's instruction program and creating their film streaming processes. Her exposure to inaccessible content, advocacy work (especially with vendors), her connection to students with disabilities, and her background as a rare disease patient and advocate has led to a synergy regarding accessibility best practices and inclusive design. She presents regularly on accessibility in higher education, has led workshops on digital habits and is often invited to speak on her experiences shifting the landscape for universal design. She is an IAAP Certified Professional in Accessibility Core Competencies (CPACC).