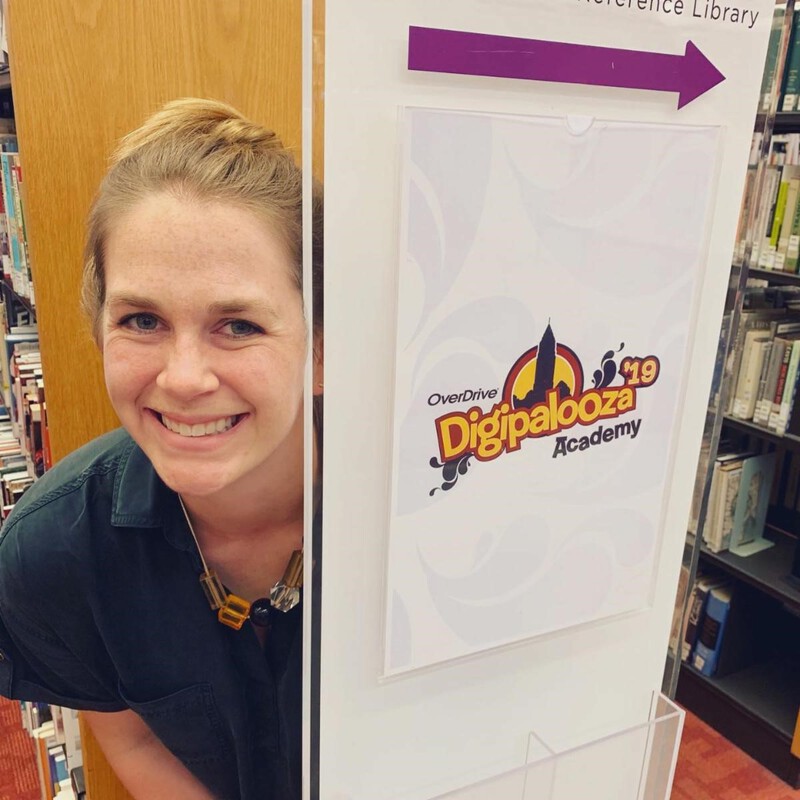 SCRLC Continuing Education Award Winner
On Friday, August 9th, Erika Jenns attended the OverDrive Digipalooza Academy in Toronto, Ontario. The conference was held in the Toronto Reference Library, which is part of the Toronto Public Library System. In addition to various networking opportunities, Digipalooza offered a day packed with programming that left attendees feeling inspired and ready to try new things with their OverDrive collections. During the conference, Erika learned more about OverDrive's new Lucky Day collection feature, and she was so excited to try it out, she created a new Lucky Day collection as soon as she returned to her hotel after the conference. This new feature from OverDrive allows libraries to put a copy (or copies) of a title into a collection with special rules like no holds, no renewals, and checkouts for only 7 days, with the hope that this will help reduce overall wait times and increase access to popular materials for users who happen to stumble upon the collection (hence, "Lucky Day"). After adding 47 titles to the collection, just 3 hours later, only 12 titles remained. Erika was happy to learn about this new feature in detail from OverDrive experts at the conference and to see it meet user demand so quickly. 
In addition to the Lucky Day collection, Erika also learned more about digital collection development strategies, the Libby app, and she got some inspiration for marketing digital collections from libraries like the
Calgary Public Library
. The day of programming also featured an author talk with Waubgeshig Rice, an author and journalist originally from Wasauksing First Nation. His first short story collection, Midnight Sweatlodge, was inspired by his experiences growing up in an Anishinaabe community, and won an Independent Publishers Book Award in 2012. During his author talk, Waub discussed his latest novel, Moon of the Crusted Snow, which was released in October 2018. Moon of the Crusted Snow is a post-apocalyptic thriller about a blackout and the panic and confusion that ensues. Erika was so taken with Waub's description of his book that she added a copy to the STLS OverDrive collection so that readers across the Southern Tier could enjoy the novel as well.
Overall, the Digipalooza Academy was a great experience. Erika learned new skills that she will share with her team of OverDrive selectors at their next Digital Library Advisory Group meeting later this month. She will also continue to put her new skills to work to bring STLS patrons a better OverDrive experience, with lower wait times for high demand titles and greater access to exciting new material.
Look for an announcement about the next round of
CE Grants
in early 2020.
Thank you to everyone who attended our 2019 Annual Meeting. Here are some
event photos
if you would like to see.
We feature weekly action items that positively contribute to the library community.
From the NYS Library, here are
Census 2020 resources
, including the
Census 2020 Hard to Count Map
which details tracts in our region that were hard to count in 2010, including areas around Ithaca, Elmira, Binghamton and Oneonta. SUNY's and public libraries in these areas will be crucial in providing the internet access necessary to complete the census for residents in those areas.
Rod Serling with college students, Ithaca College, Ithaca, NY, group picture taken October 19, 1967
The Erie Canal & Women's Suffrage Traveling Exhibits
"Two Hundred Years on the Erie Canal"
is being hosted at Alfred University, Herrick Library and 
"Recognizing Women's Right to Vote in New York State
" is at Corning Community College, Arthur A. Houghton, Jr. Library.
Both exhibits also have complementary, detailed online exhibitions available.
I am just back from vacation followed by a meeting in the North Country regarding Communities + Libraries (more about C+L in the months ahead!). Today I send along some reminders and heads-up.
Briefly, BARC is SCRLC's clearinghouse/referral service for regional interlibrary loan requests, providing both ILL support and ILL backup to libraries that need access to electronic interlibrary loan tools (e.g., ILLiad), or need access to other borrowing and lending networks, including WorldShare for both returnable items (e.g. books) as well as copies of articles or book chapters.
The service is available to all SCRLC members not having OCLC accounts.
SCRLC members are expected to exhaust their library system and other available locations prior to sending requests to BARC. BARC can also provide OCLC union list of serials (local holdings data) updates.
SCORA is designed to help serious library users obtain information at their point of need. It enables them to create a library account and check out circulating materials from participating libraries, in person. It does not replace existing reciprocal onsite agreements-it increases the opportunities for users to borrow onsite from a larger number of libraries. Relationships are between individual libraries.
Questions about BARC or SCORA? Contact Molly Brown
by email
or 607-273-9106 ext. 204. 
If you are on an SCRLC Advisory Committee, expect news soon about the All-Committee Meeting and workshop. If you're on the Advisory Committee on Information Technology and Services, expect a Doodle poll in the near future for a late November/early December meeting-ACITS will need to review technology and digitization grant applications. The SCRLC Plan of Service/Strategic Plan Design Team will also get together later in the fall. We especially need our historical societies represented. If you are interested, please contact me.
Next week, Jessica, Julia, Molly, and I are going to plan out continuing education for the remainder of the year into next summer. If there is any program that you are hoping we offer, now is the perfect time to let any of us know!
Educational Service Advisory Committee Meeting, 11/6
Diversity, Equity, and Inclusion Advisory Committee, 11/18
Board of Trustees Meeting, 12/13
Oswego, NY