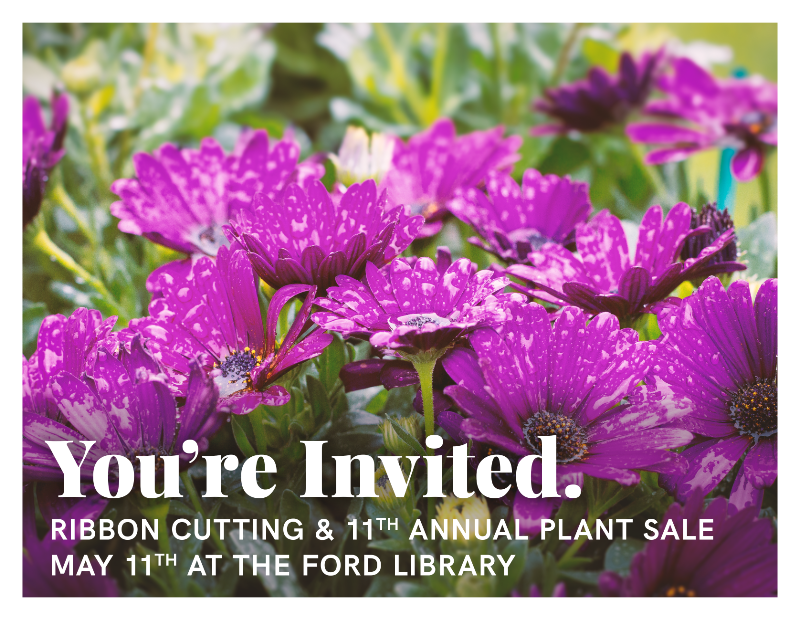 Everyone is invited to attend
Ford Memorial Library's May 11th Ribbon Cutting Ceremony
at 11am to celebrate the completion of library reconstruction. Tours of the expansion will be offered throughout the day. There will be cake and refreshments (Silo Food Truck; Cayuga Creamery; and Seneca Coffee). The event is sponsored by Tillinghast Manor Bed & Brunch. 
The library's Annual Plant Sale will run from 9am-1pm on May 11th so you can shop for Mom and help raise money for the library's operational costs.
The Library is located at 7169 N. Main Street, Ovid, NY.
Southern Tier Library System Hosts DIY Tote Bag Station at the Twin Tiers Mini Maker Faire
On Saturday, April 27th, the Southern Tier Library System joined over 60 makers and exhibiters at the Twin Tiers Mini Maker Faire. The event, held on the Corning Community College campus, ran from 10:00am to 3:00pm, and was made possible by a partnership between Chemung County Library District, SUNY Corning Community College, and Southeast Steuben County Library, with support from Southern Tier Library System (STLS).
Full press release available here
.
*We feature weekly action items that positively contribute to the library community.*
"Effective
June 18, 2019
, 
New York Public Health Law §1399-o
 will prohibit smoking within 100 feet of the entrances, exits, or outdoor areas of any public or association library, but allows vaping. Impacted libraries include public libraries that are not in a school, and private ("association") libraries that are equally accessible for free use by all community members, as defined by 
New York Education Law §253
.
County boards of health, county health districts, or designated officials will be responsible for enforcing this and other smoking restrictions found under ATUPA. Violations of this and other smoking restrictions can be reported to these enforcement officers. In New York City violations can be reported online with the Department of Health and Mental Hygiene. If a violation of this restriction is found, a civil penalty of not more than $2,000 may be imposed."
African American soldiers, ca. May 1917
The Erie Canal & Women's Suffrage Traveling Exhibits
"Two Hundred Years on the Erie Canal"
is being hosted at the New York Chiropractic College and 
"Recognizing Women's Right to Vote in New York State
" is moving to the Peck Memorial Library (Marathon).
Both exhibits also have complementary, detailed online exhibitions available.
Cheery Greetings,
Our newest service, implemented this past July, is
Ask the Lawyer
. The service, which is staffed by licensed attorneys, provides timely input on a variety of issues and hot topics in libraries including intellectual property, digital rights management, vendor contracts, first amendment, civil rights, employment law, and other legal issues that can impact library operations.
This is a collaborative service offered in partnership with the Western New York Library Resources Council (WNYLRC). Eight of the nine Library Councils participate in Ask the Lawyer.
WNYLRC maintains a list of
Recently Asked Questions (RAQ),
which includes responses to the questions asked of the service. And what interesting and important questions and responses they are! Recently asked questions include:
patron confidentiality in school libraries

streaming services in the classroom

song parodies

digital controlled lending

charging research or consulting fees

ADA compliance when screening movies
As you can see, the service is useful for all types of libraries/systems, and all SCRLC members and members of SCRLC's
public and school library systems
can pose questions.
Resource Sharing Advisory Committee, 5/16
Sexual Harassment Prevention Webinar, 6/12