---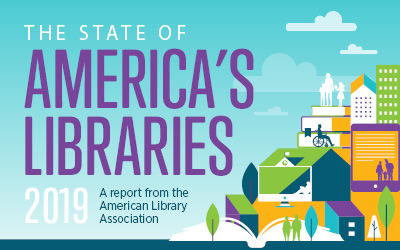 State of America's Libraries Report 2019
Learn about trends and issues affecting libraries in the 2019 State of America's Libraries report, including the #Top11 Challenged Books of 2018. http://bit.ly/soal-2019
#NationalLibraryWeek #LibrariesTransform
Take Action
*We feature weekly action items that positively contribute to the library community.*
Sustainability | On A Mission | Library Journal
New York Heritage Image
Max Reinhardt with Else Lehmann, 1901
Max Reinhardt Collection Now Available in New York Heritage
The Max Reinhardt Library and Archives at Binghamton University is one of several notable collections worldwide of books and manuscripts dealing with the work of the celebrated Austro-German theatre director Max Reinhardt (1873-1943). Reinhardt, who was recognized in America primarily for his elaborate productions of Shakespeare's A Midsummer Night's Dream, Franz Werfel's The Eternal Road, and Karl Vollmoeller's The Miracle, was born in 1873 at Baden near Vienna, Austria and died in New York City in 1943. Reinhardt's illustrious career takes on added significance because it coincides with a major shift in the evolution of the modern theater: the ascendancy of the director as the key figure in theatrical production. Reinhardt's reputation in international theater history is secured by the leading role he played in this transformation, as well as by his innovative use of new theater technology and endless experimentation with theater spaces and locales, which together redefined traditional relationships between actor and audience toward a new participatory theater. The New York Heritage Collection contains 487 items.
The Erie Canal & Women's Suffrage Traveling Exhibits
"Two Hundred Years on the Erie Canal" is at Fall Creek Elementary School Library (Ithaca) and Cortland Free Library is hosting "Recognizing Women's Right to Vote in New York State."
Both exhibits also have complementary, detailed online exhibitions available.
The Director's Cup 
Cheery Friday Greetings!
Circle your calendars! On Wednesday, June 5, from 9:30 a.m.-12:00 p.m., New York Library Association President Michelle Young and NYLA's Executive Director Jeremy Johannessen will be at the SCRLC office to participate in a conversation on how to improve diversity and inclusion in our libraries and profession. Similar gatherings are being planned for the other eight Council regions. This is a partnership initiative between Michelle and the Empire State Library Network.
Libraries and cultural organizations of all types are asked to engage in this conversation. As with the social justice summit and follow-up, it is a great opportunity to share, explore, and identify potential collaborations in this serious and important work of improving diversity and inclusion in libraries and our profession.
What are you working on in your library/library system/cultural organization in this area? What are your lessons learned? What didn't go as planned? What would you like to work on collaboratively? What can we do regionally and how can we partner with NYLA in this work? 
This next week we'll be opening registration and reaching out to the membership to solicit some short presentations, i.e., 10 minutes or less, to share what you are doing to improve diversity and inclusion. Here are some potential topics to consider:
Inclusive library programming
Inclusive library spaces
Recruiting diverse library staff
Success stories from your library
Or share something else related to our theme!
Registration for this conversation will be open to all staff from all types of SCRLC members. This meeting will be held in conjunction with SCRLC's Diversity, Equity & Inclusion Advisory Committee.
We'll serve healthy snacks and there will be an opportunity to join us for lunch following the meeting if you'd like to continue the conversation.
Yours in partnership,
Mary-Carol Lindbloom
Executive Director
SCRLC has acquired the services of an attorney to offer members input on intellectual property, digital rights management, vendor contracts, first amendment, civil rights, employment law, etc. that can impact library operations.

Recently asked questions and answers
Upcoming Events
APRIL
Resource Sharing Advisory Committee, 4/23
Awareness & Advocacy Committee, 4/25
Ending the Mental Illness Stigma, 4/30
MAY
Educational Services Advisory Committee, 5/1
Board of Trustees Meeting, 5/3
Nature Heals: Connecting with Nature to Improve Health & Wellness, 5/15
Resource Sharing Advisory Committee, 5/16
Sexual Harassment Training for Supervisors, Finger Lakes Library System, 5/28
Sexual Harassment Training for Employees, Finger Lakes Library System, 5/30