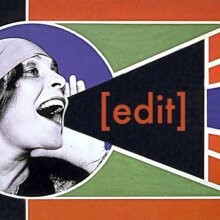 CORNING ART + FEMINISM WIKIPEDIA EDIT-A-THON
SUNDAY, MARCH 10, 2019 9:30AM - 4:00PM at
THE RAKOW RESEARCH LIBRARY OF THE CORNING MUSEUM OF GLASS
HELP US ADD WIKIPEDIA ENTRIES ABOUT WOMEN WORKING WITH GLASS.
Bring your laptop to this free, communal event and help improve articles about women on Wikipedia.
No editing experience is needed. We will provide a training session for beginners, reference materials, and refreshments, including lunch. A limited number of laptops will be available for those who need them. We will provide activities for children ages 5-12.*
We invite people of all gender identities and expressions to participate. For the editing-averse, we hope you will stop by to show your support. Come for an hour or stay for the whole event.
Please RSVP to rakow@cmog.org or +1 (607) 438-5300. More information is available here.
*For safety reasons, food and beverages are provided for adults only. Parents and caregivers are encouraged to bring food/ beverages for children.
Historic Ithaca Wins Regional Economic Development Council Award
Congratulations to our member, Historic Ithaca, for winning a REDC award through the New York State Office of Parks and Historic Restoration to restore the Cascadilla Boathouse. Historic Ithaca, in partnership with the City of Ithaca, will restore the exterior of the Cascadilla Boathouse , a c. 1896 building in Stewart Park, Ithaca, New York to prevent further deterioration. The National Register-listed boathouse, originally built for that purpose, is still in use today. This project will make the building weathertight and attractive, and restore its Shingle-Style architectural elements.
Ithaca College Hosts Ithacon & Free Workshops on Enhancing Inclusion
Ithacon will be held at Ithaca College's Emerson Suites on March 23rd & 24th.
The Workshops on Enhancing Inclusion will be held at IC's Emerson Suites on April 26th. These are a series of workshops designed to help librarians and educators better serve patrons of different identities and needs. The hour-long workshops seek to foster community among regional teachers and library staff.
Among the topics covered will be:
· Choosing Graphic Novels 
· LGBT-positive and racially diverse materials
· Luring teens into libraries (and what to do with them once you've got them)
· Setting up and using a Maker Space
· Supporting transgender staff and patrons
· Choosing educational computer games for all ages
These workshops will be taught by professional librarians who work in a variety of settings, and by Ithaca College professors, students and staff. A certificate of completion will be made available at the end of the program. Space is limited, so register as soon as possible.
Individuals with disabilities requiring accommodations should contact Katharine Kittredge at kkittredge@ithaca.edu.
Take Action
*We feature weekly action items that positively contribute to the library community amidst natural disasters, drug epidemics, political unrest and hate crimes.*
22 Diverse Book Choices for All Grade Levels | Edutopia
New York Heritage Image
Three women entering the library with books, 1938
The Erie Canal & Women's Suffrage Traveling Exhibits
"Two Hundred Years on the Erie Canal" is at Fall Creek Elementary School Library (Ithaca) and Tompkins Cortland Community College (Dryden) will be hosting "Recognizing Women's Right to Vote in New York State."
Both exhibits also have complementary, detailed online exhibitions available.
The Director's Cup 
Cheery Friday Greetings,
First off, I would be remiss to not say upfront to continue to push for increased library aid. From Jeremy Johannesen, Executive Director of the New York Library Association: "Governor Cuomo released his FY2019-2020 Executive Budget proposal & accompanying legislation. The Governor pitched his Executive Budget as a "Democracy Agenda" -- but it includes the third straight year of drastic cuts to library funding! We need YOU to TAKE ACTION NOW - JOIN OUR ONLINE PROTEST! Send a message to your elected representatives as well as a roster of legislative leaders who need to hear our message!" Thank you!
In another matter.......
A few years ago I spent evenings and weekends pursuing various MOOCs including Globalizing Higher Education and Research for the 'Knowledge Economy. The course was designed to help learners understand and explore the "big picture" of global higher ed and the associated frictions associated with the changing landscape. One of the frictions was scholarly communication/research and the publishing industry (go figure!).
Last evening's statewide screening of Paywall: The Business of Scholarship provided an update on that element (though of course in the intervening years there have been many other conversations and sources on this topic!). The documentary was authored and produced by Dr. Jason Schmitt of Clarkson University. If you have not had a chance to watch it, no worries: it is freely available on YouTube. You can also visit Paywallthemovie.com for more information. If you need and are having challenges getting the closed caption version or transcript, contact Dr. Schmitt.
So what's new in the scholarly communication/publishing industry friction? It finally feels like we are on the brink of an open, inclusive tomorrow--and libraries have a major role in this. Despite other elements in society that are worrisome, we can be open and we can be inclusive.
ESLN and the New York State Alliance of Library Systems have a statewide digital inclusion initiative that is beginning to take form (stay tuned!). Higher education, libraries, and library organizations are working to be inclusive and open--e.g. open access textbooks; fine-forgiveness in libraries like Tompkins County Public Library; The University of California's exit from its Elsevier contract; SUNY's Open Access program (will New York be the second state to break up with Elsevier?); OhioLINK's model for working with publishers to provide open access text books (Amy Pawlowsi was here in Ithaca at Academic Libraries in October, presenting a pre-conference workshop--also congratulations to Amy and Gwen for becoming 2019 LJ Movers and Shakers!). Openness of resources provides one path to equity and inclusion.
In this 21st century world in which we live, everyone must have the opportunity to be involved in solving the big issues as well as more local ones. To do that requires equity, inclusion, and ubiquitous access to the body of research, information, investigators working on similar topics, and thought leaders. Libraries and library organizations are key to facilitating this--we bridge the digital divide and can ensure access to all of this, for all.
Yours in partnership,
Mary-Carol Lindbloom
Executive Director
Upcoming Events
MARCH
Grief in the Workplace, 3/14
Diversity, Equity, and Inclusion Committee, 3/15
Board of Trustees Meeting, 3/22
Resource Sharing Advisory Committee, 3/26