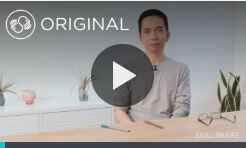 Try Skillshare!
SCRLC members can have access to Skillshare, which offers online classes in design, business, technology, photography, entrepreneurship, film and writing, often taught by industry leaders. Just send a request to jphilippe@scrlc.org. You can use Skillshare 24/7 from your computer or mobile device. Registration will be rotated on a first-come, first-serve basis, but you will have at least two weeks of access.
Featured Class: Creative Leadership Toolkit: Curiosity, History, and Discovery
Tompkins County Public Library is Now Fine Free
ITHACA- Tompkins County Public Library is very proud to announce all fines on late items have been eliminated in order to ensure all people have free and unfettered access to library books and materials. The initiative began with a quiet roll-out on January 14, 2019.
"Libraries have learned that fines aren't effective for encouraging the timely return of materials; they allow people who can afford them to keep materials as long as they want, and prevent those that can't from using the library at all," according to Library Director Annette Birdsall. "Libraries need to remove this social inequity and encourage access. Stewardship is ensured because people will still need to pay for lost or damaged materials. We respect our readers and libraries so we are confident that sharing our resources will continue in the same manner that libraries have always celebrated."
Studies have shown that small fines have no impact on return rates. According to "Removing Barriers to Access," a Colorado State Library whitepaper: "The scant research on the impact of library fines and fees does not indicate a clear benefit to administering these policies and may be costly to enforce." Due to the rise in electronic materials (which do not accrue late fines) and other factors, fines are not a sustainable form of revenue for the library. Money collected from fines and fees has decreased steadily for the past ten years, especially with the advent of autorenew.
 A FAQ (frequently asked questions) resource is available on the Library's website. For more information about Fine Free at TCPL, please contact TCPL Director Annette Birdsall.
Other Members in the News
Your Home Public Library Now Offering Mobile Hotspots to Patrons | BinghamtonHomepage.com
Your Turn: New York public library cuts can hurt economic support for Southern Tier | Star Gazette
Annual Continuing Education Grant & NYSLAA Scholarship
SCRLC is pleased to provide one $500 grant for a member to attend a local or regional conference or workshop and one $500 scholarship for a member to attend the New York State Library Assistant's Association (NYSLAA) Conference. For more information about the grants and to apply, please visit our website. The deadline to apply for both awards is Monday, February 25th, 2019 by 5:00pm. Applications will be reviewed and announced in March.
New York Heritage Image
Sun Park- A wing of Ellis Hospital, 1918
The Erie Canal & Women's Suffrage Traveling Exhibits
"Two Hundred Years on the Erie Canal" is on a hiatus and Houghton College is hosting "Recognizing Women's Right to Vote in New York State." Sign up to host these exhibits in 2019! 
Both exhibits also have complementary, detailed online exhibitions available.
The Director's Cup 
Cheery Friday Greetings,
As we move deeper into February, here is a bit more information about Library Advocacy Day, which will be held on Wednesday, February 27. As always, this is an important time to meet with our legislators despite other advocacy efforts we may have during the year. It can be challenging to get to Albany, but it's important to do--we're not the only voices they hear from that day and we need a multitude of supporters!
In addition to visiting with legislators on that day, there are also pre-advocacy activities on the 26th , which are listed here. The library systems will be meeting, and there are a luncheon and workshops for all library advocates, followed by the PAC dinner in the evening. Details about each event are on that page.
If you cannot attend Library Advocacy Day--or even if you can--try virtual advocacy through NYLA. The talking points are here.
As I mentioned last time, the public library systems are sponsoring buses. There may still be room. Please contact Kristi Downham for Finger Lakes Library System and Keturah Kappadonia at Southern Tier Library System for the STLS/Four County bus. Also contact Diane Capalongo at our office so we know to expect you in the meetings with our legislators.
Yours in partnership,
Mary-Carol Lindbloom
Executive Director