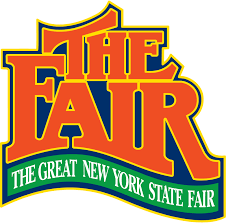 Volunteer Slots Still Available
Wednesday, August 22 - Monday, September 3
Libraries Booth – Science and Industry Building
For the fifth year running, libraries from all around New York state, will show fair goers just how amazing they are.
This year, we will piggyback on the summer reading theme of Libraries Rock!. We'll have a 10 foot balloon sculpture of an electric guitar and, of course, the famous trivia spinning wheel.
The Fair runs for 13 days and the booth is staffed for 12 hours each day. Three volunteers are needed for each three-hour shift. Bring a friend. Bring a colleague. SIGN UP HERE and receive an admission ticket for the day (travel and parking are on your own), a bright purple tee shirt and the satisfaction of advocating for YOUR library.
If you cannot volunteer this year, please consider a DONATION to help offset our costs.
---
---
New York Heritage Image
Blind African-American Man with a Braille Book, Selling Newspapers
---
Check out the Erie Canal and Women's Suffrage Traveling Exhibits
"Two Hundred Years on the Erie Canal" is currently at Big Flats Historical Society and Waverly Free Library is hosting "Recognizing Women's Right to Vote in New York State." Both exhibitions will be there until August 17th. Sign up here to host the Erie Canal exhibit. Sign up here to host the Women's Suffrage exhibit.
Both exhibits also have complementary, detailed online exhibitions available.
The Erie Canal exhibit: dp.la/exhibitions.
The Women's Suffrage Centennial Exhibit: nyhertitage.org/suffrage.
---
The Director's Cup 
Cheery Friday Greetings,
Here we are at the end of another busy week at the Council (as they all are, thankfully!) and heading deeper into August. At month's end, our annual report will be sent to the State Library. If you owe us annual interlibrary statistics (speaking of things annual!), please email them to Danna's attention. If you need a form, contact her, as well. Thank you!
Among this week's meetings was the Diversity, Equity, and Inclusion Task Group, which worked on the DEI plan. The group looked at a framework for DEI and examined our programs and services in this context. The group is also creating a LibGuide to be used by SCRLC members and the Council. It will include links to other plans and strategies including ALA's Recruiting for Diversity page and potential places to reach a diverse audience when advertising for jobs. Members of the DEI Task Group are Nancy Abashian (Binghamton U), Camille Andrews (Cornell U), Deborah Gagnon (Wells C), Sarah Glogowski (Finger Lakes Library System), Michelle Romanchock (Alfred U-Scholes), as well as Jessica and I.
The Advisory Committee on Information Services and Technology also met this week to review grant applications and the 2019 form that will go to the Board in September. We also discussed the Shark/Guppy Tank grant round that is in our Plan of Service to do before 2021, wondering what form it could take. Discussion continues. Your ideas would be appreciated, too! The group also looked at the Horizon Report Preview 2018, which looks at short, medium, and long term trends. The PDF of the preview is here. By the way, redesigning learning spaces is among the short term trends, i.e., "as universities engage with strategies that incorporate digital elements and accommodate more active learning in the physical classroom, they are rearranging physical environments to promote these pedagogical shifts."
Enjoy your weekend-I am off to a telescope making convention in Vermont-Stellafane. It is always so interesting to see the new designs that (primarily) amateur telescope makers create!
Yours in partnership,
Mary-Carol Lindbloom
Executive Director
---
---
Upcoming Events
AUGUST
Design for Learning Facilitated Learning Circle: Community Module, 8/13, 8/20, 8/27
SEPTEMBER
NYLA Sustainability Initiative OGS Green Procurement Webinar, 9/5
Online Book Discussion: Antisocial Media, 9/7
New York State Legislative Appreciation Reception, 9/14
Illuminated: Resource Sharing Workshop, 9/25 @SUNY Cortland
OCTOBER
The Library is Open: Academic Libraries Conference 2018, 10/11-12 @Hotel Ithaca
SCRLC Annual Meeting, 10/26, Location TBA