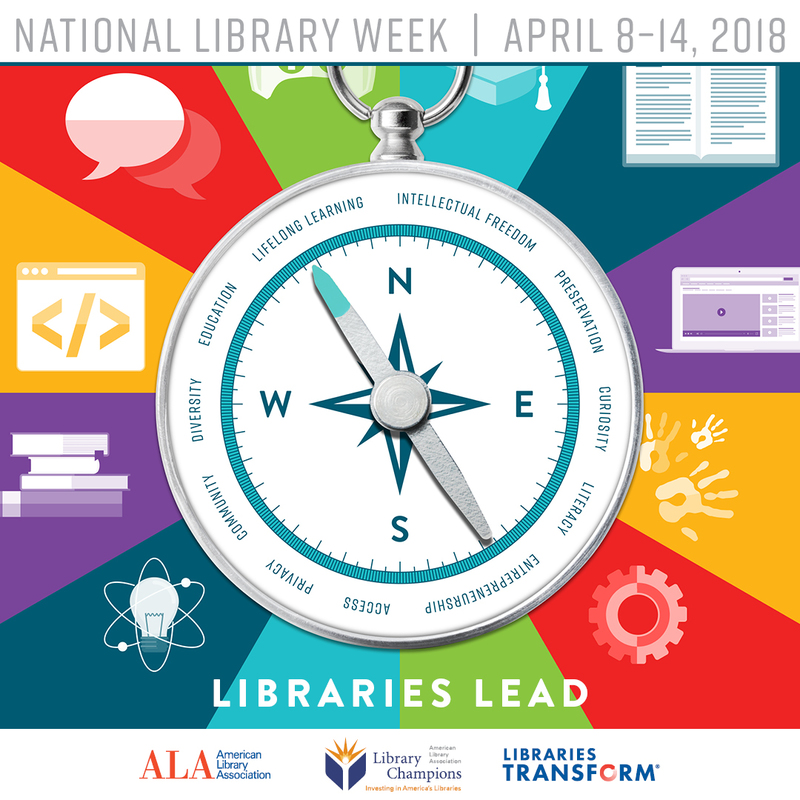 National Library Week (April 8- 14, 2018) is a time to celebrate the contributions of our nation's libraries and library workers and to promote library use and support. From free access to books and online resources for families to library business centers that help support entrepreneurship and retraining, libraries offer opportunity to all. The theme for 2018 National Library Week is "Libraries Lead," and American Ballet Theatre Principal Dancer Misty Copeland will serve as 2018 National Library Week Honorary Chair.
Member News
Dan DeVona from the Afton Central School District, which is part of the Delaware-Chenango-Madison-Otsego BOCES School Library System, won $1,000 for OverDrive books from the OverDrive School Stars competition for his fantastic video! Congratulations Dan!
LAST CALL!
Educational Services Survey - chance to win $25 Amazon gift card
The SCRLC Educational Services Advisory Committee needs your help planning events and services for 2018-2019. Fill out the survey here: https://www.surveymonkey.com/r/9LN9PPC for a chance to win a $25 Amazon gift certificate! It will take about 10 minutes to complete. The deadline for completion is Friday, April 6th. SCRLC public and school library systems are encouraged to send the link to their member libraries, as well. Thank you for you time and valuable input!
Lively as Ever, NYSLAA's Annual Conference Turns 40
Registration for the 40th Annual Conference of the New York State Library Assistants' Association is now open. NYSLAA invites all library staff members to attend this networking and learning event to be heldJune 6-8, 2018 at the Radisson Hotel in Corning, New York. Attendees get to meet and share ideas with library assistants and other library staff from around the state while learning a new thing or two!
An eclectic variety of workshops will be offered, designed to be of interest to library staff from a range of work settings. Attendees will register for four sessions over two days, choosing from a total of twenty workshops. Some delve into practical and hands-on topics, such as cataloging art and ephemera, book repair, and information security, while others encourage a little stretching and exploration, like Host Your Own Death Café and Making in the Makerspace. Presentations on the opioid epidemic and Alzheimer's disease take on topics affecting patron and community well-being.
NYSLAA doesn't forget the fun either, and is taking full advantage of its conference location. Guests can try sandblasting at The Studio (Corning Museum of Glass) and tour the museum, take a Wine and Design class, or view the gorgeous Tiffany stained glass windows at Christ Episcopal Church. Dinner on Thursday night is at Watkins Glen International racetrack, where guests will have a chance to take a ride around the track in a pace car.
Conference organizers also arrange to give back to their host community. Attendees will be encouraged to bring items to donate to Corning area non-profits, including the Corning Food Pantry, Arnot Ogden Hospital Neonatal and Pediatric Units, the Red Book Shelf, or Tanner's P.A.W.S.
The early registration deadline is April 13 and final registration is due by May 11. NYSLAA members save on their conference registration fee, and the association is offering free membership to new members April 4-8 in recognition of National Library Week. Visit www.nyslaa.org in April for more information. A conference brochure and more details can be found here.
---
---
New York Heritage Image
Men & Women Playing Cards
---
The Director's Cup 
Cheery Friday Greetings--and an early Happy Library Week!
As you know, the State Budget passed on-time. Said budget includes the $4 million restoration plus another $1M, bringing library aid to $96.6M. This means another 1% in funds for 2018-2019 over 2017-2018. This increase will also boost Coordinated Collection Development Aid for Academics and the Hospital Library Services Program by 1%. Although $96.6M is not full funding, which is $102.6 million in 2007 dollars, it is a step in the right direction. The State budget also includes $34M for public library construction aid, which is a $10M increase over last year. Well done, library advocates!
Now is a great time to contact your legislators to thank them for their support. The New York Library Association makes this very easy-just click here! You can use the wording that they offer or modify in your own words.
A couple more items to highlight:
SCRLC's Educational Services Survey: Today is the final day to complete the Education Services Survey! So far, we have heard from 80 of you, but it would be great to get even more responses. We want to hear from all of our members and our members' members-the area schools and public libraries, too!
There is also still time to register for Active & Engaged Libraries, which is happening on Friday the 13th at 1:30, Tompkins County Public Library. The program is free of charge. While we'll follow up and check in with some of the July summit participants and learn more about a few of the indigenous communities in this area, it is also an opportunity to help shape the Council's response regarding engagement, inclusivity, and neutrality. How can we help? More workshops on specific topics? Which ones? A special interest group? Other? All of the above? We hope that you will be part of the conversation!
Yours in partnership,
Mary-Carol Lindbloom
Executive Director
---
Upcoming Events
APRIL
Savvy Librarians Uniting for Social Hour (SLUSH) @ Liquid State Brewing Company, 4/8, 2-4pm
Primary Partners: Making Local and Regional Connections: Binghamton University Archives, 4/12
Active & Engaged Libraries: A Follow Up to the Social Justice Summit, 4/13
HLSP Advisory Committee, 4/18
WALDO Spring Update Webinar for SCRLC, 4/24
MAY
Educational Services Advisory Committee, 5/1
Reflecting on Reference: A one-day conference at Hopshire Farm & Brewery, 5/11
Board of Trustees Meeting, 5/18
JUNE
Online Book Discussion: Exit West, 6/1
Board of Trustees Meeting, 6/15