SCRLC Debuts All Gender Restrooms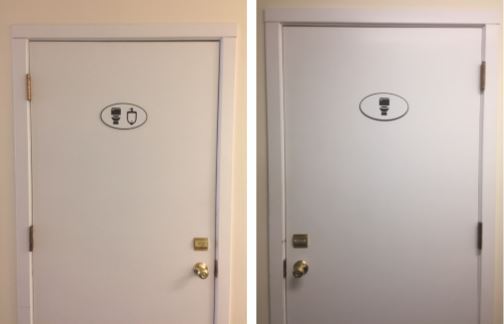 SCRLC now has all gender, single-stall restrooms with signage that reflects the plumbing equipment within, rather than who may or may not use the space. Thanks to the METRO council for the images and inspiration for a simple solution to what is often a complex debate. Inclusiveness and shorter lines are just a sign swap away (at least for single-stall restrooms). If you are looking for a similar template, feel free to use ours.
TCPL and Ulysses Philomathic Library Offer Empire Passports
Tompkins County Public Library announces the addition of four New York State Empire Passes to its Library of Things that patrons can check out with their library card. The Empire Passes may be checked out for one week, and allow the card holder (and occupants of their car) entry to any New York State park. There are no holds or renewals for this item. Other Library of Things items include family passes for the Museum of the Earth and the Cayuga Nature Center, TCPL tote bags and umbrellas, a tool kit, a variety of phone charger cables, reading glasses, calculators, and more. These items are listed in the library catalog under "Library of Things" and are available at the Circulation Desk.
Ulysses Philomathic Library has them available as well.
RBDB Grants Available
South Central Regional Library Council's (SCRLC) 2018 Regional Bibliographic Data Bases and Interlibrary Resources Sharing (RBDB) Program has an additional pool of funding available for regional technology projects in the amount of $6,000. An individual or group may apply for all of the funds or a portion of them. It is very important to indicate on the application whether or not partial funding is acceptable. Applicants may want to consider smaller or scalable projects given the shortened timetable for this round of grants.
SCRLC members are encouraged to submit creative and innovative proposals to improve regional access and resource sharing through technology. Proposals should be submitted to the SCRLC office according to instructions. Proposals received will be presented to a review panel composed of expert individuals from outside the SCRLC region and membership for evaluation and funding recommendations. For this round, Newspaper digitization projects are strongly encouraged.
Applications must be completed and submitted electronically to the SCRLC office by Friday, July 13, 2018. For more information and to apply, click here. Send applications and questions to Julia Corrice.
Take Action: Health & Wellness
In the spirit of #LibrariesRespond, we feature weekly action items that positively contribute to the library community amidst natural disasters, drug epidemics, political unrest and hate crimes.
Purchase an Empire Pass for your library here.
New York Heritage Image
Little girl eating corn on the cob, 1915
Check out the Erie Canal and Women's Suffrage Traveling Exhibits
"Two Hundred Years on the Erie Canal" is currently at Prattsburgh Central School and the Seymour Public Library is hosting "Recognizing Women's Right to Vote in New York State." Both exhibitions will be there until June 15th. Sign up here to host the Erie Canal exhibit. Sign up here to host the Women's Suffrage exhibit.
Both exhibits also have complementary, detailed online exhibitions available.
The Erie Canal exhibit: dp.la/exhibitions.
The Women's Suffrage Centennial Exhibit: nyhertitage.org/suffrage.
The Director's Cup

Cheery Friday Greetings,
As you know, for the past four years, SCRLC has had an Institute for Museum and Library Services (IMLS)-funded project, Design for Learning: 21st Century Online Teaching and Learning Skills for Library Workers (D4L). It has been a continuing education development and implementation partnership project among South Central Regional Library Council, Syracuse University's School of Information Studies, and the Empire State Library Network.
The purpose of the program was three-fold: 1) to enable librarian-trainer participants to successfully transfer their in-person teaching skills/pedagogy to the online environment; 2) enable librarian-trainers to evaluate and gain experience with various delivery platforms; and 3) teach library workers to learn effectively in the online environment.
Earlier this year, the learning modules were transferred to WebJunction, where they remain freely available to library workers everywhere. While the largest user base continues to be from New York State, 48 other states are represented as well as some international users.
I hope that if you are involved in or expect to be involved in teaching online that you'll find the modules useful. Some of the modules, e.g. Diversity and Community would be useful even if you are not specifically teaching online. The other modules are: Orientation, Foundation, Content Creation, Course Management, and Capstone, the latter which helps learners tie together what they've learned to create their own project.
I've thanked them in the past, but will acknowledge them again. we had an awesome team involved in this project, from our current coordinator Arden Kirkland and former, Diane Kovacs; to our academic liaison Dave Lankes and Megan Oakleaf; module designers and leadership team members Loriene Roy, Lori Bell, Helen Linda, and Nicolette Warisse Sosulski; project evaluators Tom Peters and Rae-Anne Montague-and the SCRLC staff!
Web Junction staff will be working with us to keep the content relevant and up-to-date. The modules will also be added to Syracuse University's SURFACE institutional repository.
Yours in partnership,
Mary-Carol Lindbloom
Executive Director